Acamar Consulting
Future-focused | Data-driven
Acamar Consulting partners with small- to mid-sized companies to optimize budgeting and forecasting operations and maximize earnings potential.
Acamar Consulting takes a holistic approach to planning and analytics, evaluating how people, process, and technology intersect in your business - creating the data, insights, and actions to support your growth strategy.
Planning, Budgeting & Forecasting
Business Insights
Process Optimisation
Data Governance
Events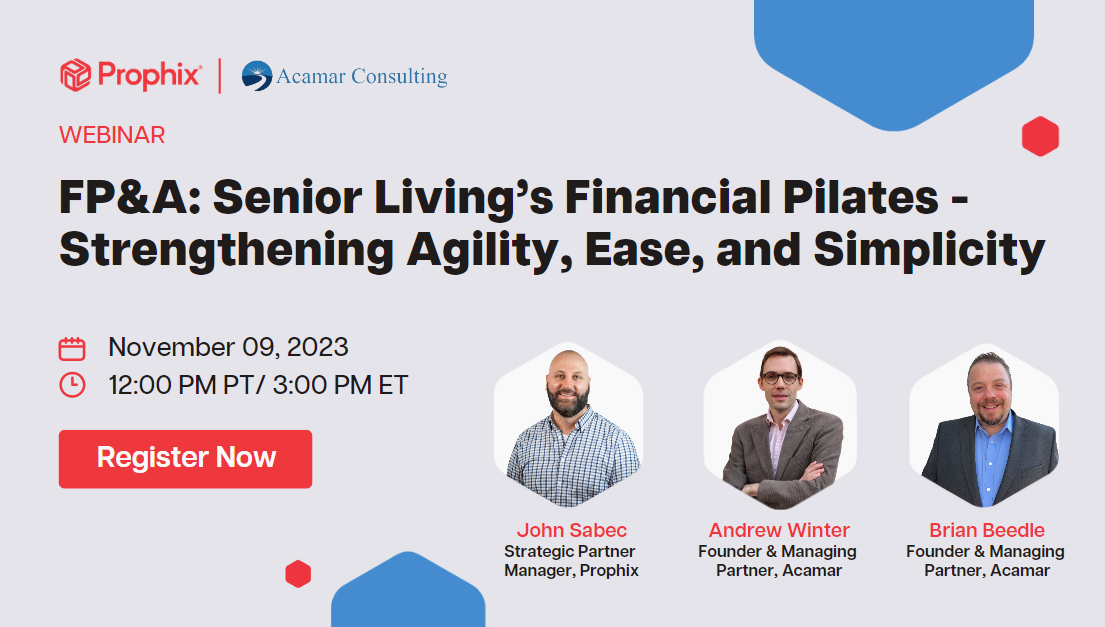 FP&A: Senior Living's Financial Pilates - Strengthening Agility, Ease, and Simplicity
Nov 09 12PM PT
Register
Sr Living Care Providers and Health Care Practices in today's ever-changing environment face difficulties planning for tomorrow when just trying to keep up with today. Adopting a modern technology foundation builds a culture of collaboration that engages all stakeholders with improved insights, streamlined processes and better scenario planning. Prophix is the Financial Performance Management solution of choice when it comes to integrated financial planning and consolidation. Join this webinar to see how Prophix puts your data to work for instant visibility and insight.Give your team the analysis they need and be ready to react when, not if, disruption happens.

Join us for a live webinar as we discuss:
Understand how consolidating various data sources improves accuracy and saves time on mundane tasks to allow more time for strategic analysis
Learn how to build financial models to support evolving business needs
Discover how to streamline the budgeting process to drive collaboration and accountability and provide near real-time visibility for improved cost control
Explore how to mitigate risk via powerful dashboards and reports, along with what-if scenario planning to quickly see how decisions will impact outcomes
Acamar Consulting has partnerships and years of experience with the technologies that form the backbone of your planning and analytics environment.